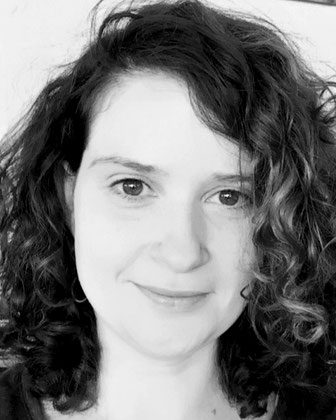 ---
"It changed me as a professional and enabled me to see other capabilities, and cascading several learnings!"
Andrea Lima 
Business Solutions Specialist F&C,
IT Nestlé Regional IT HUB EMENA

How everything starts
The first thought that started the whole journey of Andrea Lima was that she was looking for new projects, new ways of thinking, and methodologies. Because the IT environment has been changed by people talking about agile and SCRUM and many new things, mentioned Andrea Lima. However, the first interaction with the Methodologies Team came from her manager, who was also aware of this rapid change within the field.
"My manager saw a post on the workplace that the Innovation Methodologies Team was recruiting volunteers for the Impact Week in Ghana in 2019, and she thought of me! I was actually surprised that she came to me because this trip to Ghana meant at least two weeks investments", said Andrea Lima. 
Nevertheless, her manager was intrigued by the purpose of the Innovation Methodologies team and decided to sponsor investments for sending Andrea Lima to Ghana.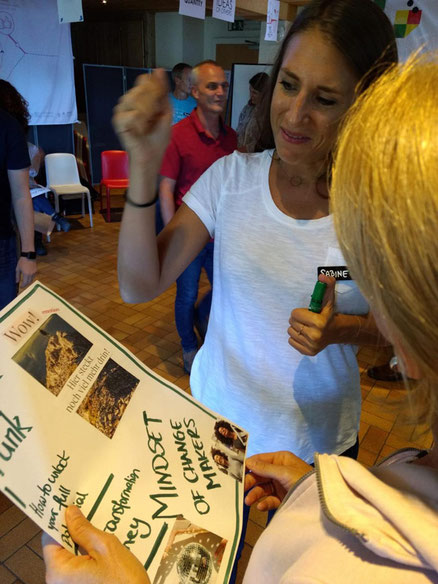 The Innovation Methodologies Team and Design at Business experts organized a Design Thinking training session
The Impact Week in Ghana aimed to help students and young graduates in emerging economies with a Design Thinking approach. The objective was to facilitate and support those group of students and to pitch a new business idea in front of a jury.
But before going to Ghana, the Innovation Methodologies team and Design at Business experts organize a training session in the swiss mountains to practice and learn about Design Thinking. The experience and the preparation were for Andrea Lima beneficial and vital because at that time she had a base knowledge of Design Thinking, and she was looking forward to leveling up her skills. Moreover, she had the chance to pass through her knowledge as a certified Product Owner in SCRUM.
"It was an amazing preparation, the whole structure,
the passion, and super knowledgeable people",
added Andrea Lima.
Personal transformation
"Since that experience that I had in Ghana, with my team and until now, the way I look at new problems has totally changed. As well towards creativity, it is not like a gift, that you were born with, no, you can be creative if you have the time and some guidance," acknowledged Andrea Lima.
The most significant personal transformation for her is not just the impact on teaching others. It is about enabling herself to spread the mindset and way of looking at a problem in another way. Andrea Lima explained when a new problem from the group is showing up, for example, the manager asked her how we can figure out the reasons why those results got this rate.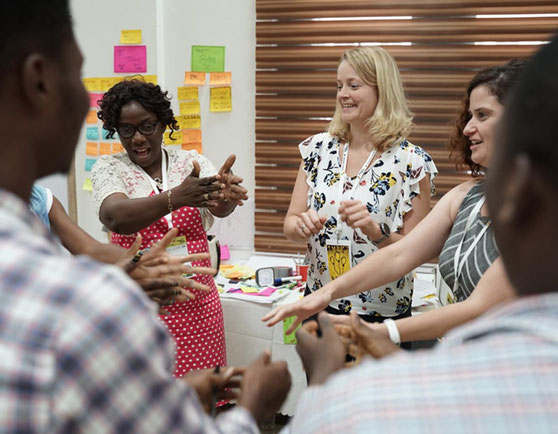 She proposed beforehand to do brainstorming and investigate by interviewing key people the reason
behind. By thinking of understanding the problem first before jumping into it is a very crucial point that should be embedded into the cultural transformation.
"It is like opening a pandora box. By going deeper every single time. You will learn something more and question the way of working and where you want to go. Especially if you change your mindset, you start believing in yourself more, rethinking problems and development. It is like a cascading effect. I went from Design Thinking, new ways of Design Thinking, brainstorming, learning more techniques, and storytelling. It is fantastic if you are open to do this but also knowledge is power as danger, so you also question yourself if you are in the right place and if you can bring the full potential back", confessed Andrea Lima.
One of the first coaching experiences that Andrea Lima had, was to support a team with a sustainability initiative on reporting. The people were requesting a design thinking process, because it was also fashionable to ask for it. But within the process, Andrea Lima and her co-coach partner recognized that applying Design Thinking to their specific project was not necessary because they already had a solution. "We could have supported them on how they can do the solution, but we could not call it Design Thinking anymore. So, thinking about how to adapt your request before calling it A or B and then support the team in the right way. How you call it is not as important as getting to the goal," mentioned Andrea Lima.

How to start to bring experiences back to the business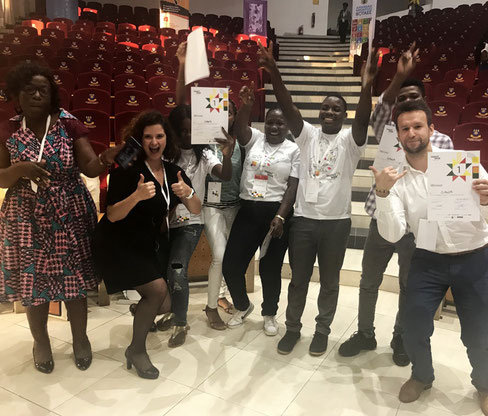 It was a challenging time for Andrea Lima on how to bring back values out of the experience. Therefore, she became more active as a Change Agent (Change Agent started in 2019 to embrace change, agile ways of working, methodologies to support a group of people for building capability to be aligned to the goals on the vision). She brought training and facilitated workshops inside and outside of her team that she was exposed to firsthand in Ghana and Switzerland.
"I do not just measure now on how we are performing but mostly I want to create a sharing channel by bringing news about what is going in terms of training, benchmarking with other teams, invite people to speak up during meetings. I think the most important is that there is a shift of mindset. It is not just learning how to apply Design Thinking, but the most important of those
experiences really is the mindset that comes with it," responded Andrea Lima.

If she gets a problem today, she stops and thinks about how to validate this problem before jumping into the resolution mode.
 "It was kind of automatic to have a problem and resolve it right away. It can result in too many back and forth and finally, when running out of time, you get into a panic mode. We all have been there and know that nothing excellent comes from panic mode. However, if you spend more time understanding the problem and listen to other people's view, you might come to better and perhaps excellent solutions. At the end, investing time on understand the problem saves time of re-working," revealed Andrea Lima.
Read more about ...

Written by
Joern Bruecker
Global Product
Group Manager 
Innovation Methodologies 
at Nestlé
Stefanie Sanna
Innovation Methodologies Trainee and UX/UI Designer 
at Nestlé

(Junior UX Designer at Yokoy since Nov. 2021)
Andrea Lima
Data & Technology Manager for Integrated Business Service DACH
at Danone (Since Nov. 2021)