Recap of our Collaboration Circle in September.
"Work is not a place anymore." - With this quote we started into 1,5 hours full of hacks and insights from Inga Geisler - a pioneer and pro when it comes to blended learning and designing hybrid trainings and workshops and who has been in the business of live online trainings for over 20 years now. 
So, what is work if not a place?
We collaborate in a room physically, we team up virtually from all over the world at the same time, and we work asynchronously from home, at the office or from the beach. In many jobs, meeting online has become a daily standard. We know how to meet and act onsite, we have quickly learned how to meet online, and are now experimenting and navigating the challenges of hybrid events. Our NEW WORK WORKPLACE is anywhere, at any time, and in any format.
---
Lesson 1: Communicate!
Involving both online and onsite participants of hybrid meetings is essential. The time you have together, live, needs to be filled with interaction. Interaction can be sparked by various warm-ups, energizers, and teamwork. Be practical, keep the conversation going and design an engaging framework. Also, regular check-ins during the session on how the energy level or mood is, can help you to keep the group active. Of course, as facilitator you need to set some basic rules, such as raising hands before talking.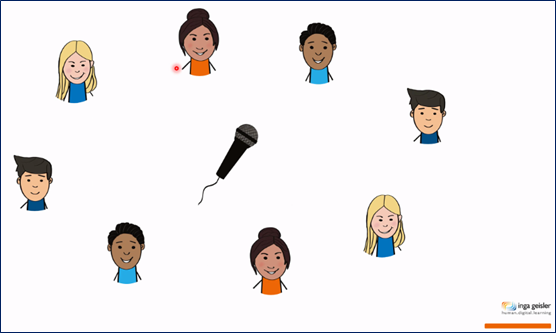 ---
Lesson 2: Mingle!
Assign buddies. Every onsite participant has an online buddy. Firstly, this helps the group to maintain the connection, and secondly, it supports the facilitator to keep everyone engaged and looked after. With this hack you can have any group size you want in a hybrid format.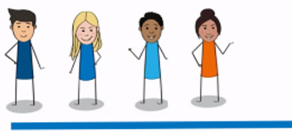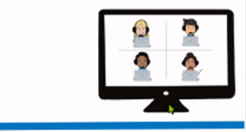 ---
Lesson 3: Time!
You might need to plan up to 25% more time for a hybrid session than you would normally do for full online or full onsite session. You will need the time to guarantee Lesson 1 & 2, and to gather and summarize content and information from both online and onsite participants. Also, plan breaks and make sure your hybrid meeting does not exceed 90 minutes without a break.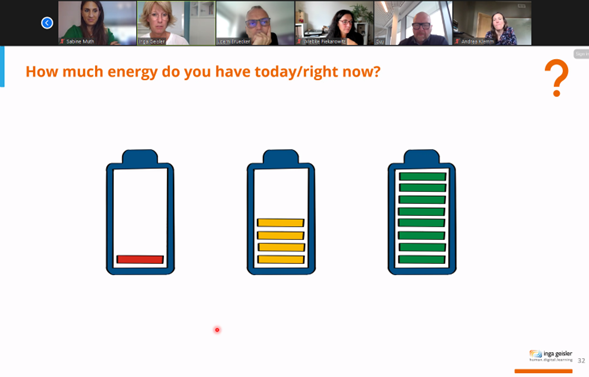 ---
Lesson 4 Balance!
Design your hybrid sessions and meetings for online and onsite participants the same way. When the participants in one room are working on a whiteboard, the participants online are working on an online whiteboard too. Then you bring both results together by e.g. taking pictures and uploading them to a collective whiteboard.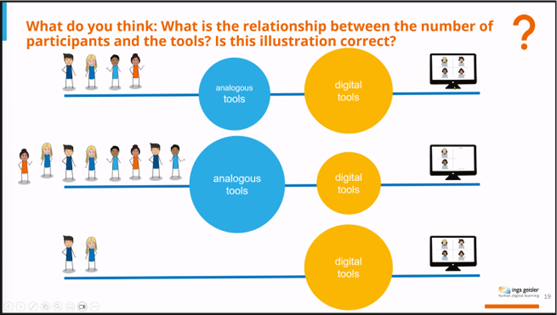 ---
Lesson 5: Creativity!
Make sure that you have a good (technical) setup online and onsite that allows you to (re)act. Involve your onsite and online participants equally and surprise them by sending them a session related box upfront that contains everything they need from wherever they join the session.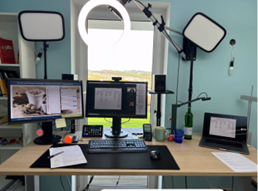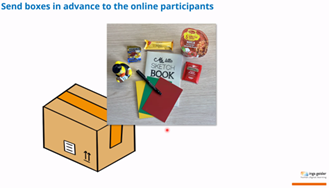 ---
Our key take away?
We are the designers of our NEW WORK WORKPLACE. Our mindset and motivation and some basic guidelines build the foundation for us to stay flexible and integrate whatever comes our way. So, dear Metaverse, how might you empower our hybrid meetings?

This Collaboration Circle and the recap were realized by:
Special thanks to our guest Inga Geisler for the exciting CC!